If you've ever submitted an event to the Inlander and wondered why it wasn't printed in the paper right away, or have wanted to submit us your event but weren't sure what to include, the following information should be helpful.
What types of events does the Inlander publish?
As a general policy, the Inlander publishes events that would be of broad interest to our readers, and that complement the content of the Inlander's editorial sections.
Events in the following categories are published on a mostly regular basis: comedy, community, film, food/drink, music, sports/outdoors, theater/performance arts, visual arts and words.
Other occasional or special event categories include: museums, holiday/seasonal and festivals.
There are also several online-only event categories: trivia, karaoke, open mic, crafts, farmers markets and health and wellness events. We occasionally print a roundup of some of these regularly scheduled, weekly events in the calendar section on a rotating basis when there's space. However, all of the previously-mentioned categories' events can always be found online.
What types of events does the Inlander NOT publish?
Events you won't find in the Inlander calendar include, but are not limited to the following: class reunions, garage sales, religious services and workshops, industry specific and/or general business meetings and events, support groups, contests, grand openings, summer camps (those are printed in a yearly pull-out section we publish annually in early April; scroll down for more information) and exercise and fitness classes that are not one-time, free trial sessions. On occasion there are exceptions to the categories listed above, considered on a case-by-case basis.
What information do I need to send about my event?
We accept everything from very brief event submissions to entire press releases and press packets. Both are fine, as long as the following information is included:
Event name — In the print calendar, the event name is the bold-faced title. Online, it's what people will see first when they search the online calendar.
Brief event description — A one-to-two-sentence, brief explanation of the event. These descriptions will be edited for space and wording.
Date and time
Cost
Age restrictions — If an event has a less-obvious age restriction, it will be noted after the cost. Usually this only applies to concerts or events at bars.
Place — We need to know the name of the venue where the event is occurring, as well as an address.
Event contact information — The last two pieces of each listing are a phone number or email address and/or a website where readers can go for more information or to sign up for an event. Sometimes this is the event venue's website and phone number, sometimes it's contact info for the person organizing the event. Either way, it needs to be a number that is an appropriate way our readers can find out more information. If this field is left blank, our system will automatically pull the phone number on file for the host venue.
Here's a sample listing:
SPOKANE SYMPHONY Classics series: "A Hero's Life" featuring works by Strauss and Verdi. March 16 at 8 pm and March 17 at 3 pm. $14+. Martin Woldson Theater at The Fox, 1001 W. Sprague Ave. spokanesymphony.org (624-1200)
How early should I submit my event?
To ensure your event is seen by staff before our print deadline each week, all events are due by Thursday at 5 pm the week before the issue of the Inlander in which you want your listing to appear. Events submitted after that deadline will not make it into the following week's print edition.
You can submit events earlier than this — which is encouraged; especially via our online event submission form (visit Inlander.com/getlisted) — but that does not guarantee that it will be listed more than once in the issues leading up to it. Unfortunately, space does not always allow us to list events more than a week in advance because we receive so many each week.
What's the best way to submit an event?
Glad you asked! The best, most efficient method to submit events for the Inlander is via our online, user submission form, found here: Inlander.com/getlisted. Or, simply go to our homepage (inlander.com) and look to the right side of the page, where you'll see a grey button that says "Submit Event."
Most of the events we list are submitted here, but can also be sent to us via email, to getlisted@inlander.com. However, our online event form is now the preferred method to submit events, since submissions are opened, edited and approved multiple times a week by our listings editor. This means your events will be "live" in our online calendar for the length of time between when you submit it and the date it occurs. Another great benefit of online listing submissions is the option for users to submit an event photo or poster (must be a .jpg or .png; we can't accept PDFs, stock photos, business logos or clip art.) to run alongside the listing.
A very small number of events are submitted to us via mail. We don't recommend submitting events this way unless you make sure to send it pretty early.
Why isn't the Inlander able to run my event every week if it's ongoing?
One-time events take precedence over weekly, recurring events. If you have submitted an ongoing, weekly event that fits the rest of our submission guidelines, you don't need to submit it to us every week. When you initially submit it, though, please note when the event will no longer happen on a recurring basis and we will keep track of when to stop listing it. If there are changes to the event after you've submitted it, please let us know as soon as possible.
What should I do if I need to get the word out about my event in the print edition of the Inlander several weeks before it happens?
If you want people to know about an event weeks in advance, the best option is to take out a paid advertisement in addition to submitting the event information for consideration for the calendar. To find out more about ad rates, please email sales@inlander.com or call the advertising department. Remember that events submitted to us online are included in the online version of the calendar as soon as we approve the listing, usually within a few days after submission.
What can I do to improve the chances of my event being listed in the paper?
Since the events calendar is a free service based on available space, we cannot guarantee that all events — even those that meet submission guidelines — will be printed. If there is not enough space in an issue to run all of the events occurring during that issue's Thursday through Wednesday cycle, some events will be omitted from the print version. However, those events that have been cut from print still are published online. In each calendar section we try to include a tag directing readers to go to online for complete local event listings.
How much does it cost to list an event in the calendar?
As an editorial section of the paper, there is no cost for events to run in the calendar.
What about First Friday art show events?
Because our print calendar space is limited, we're not able to list all of the participating First Friday art shows in print. However, we do mention the event under the visual arts category, directing readers to visit our website for complete event details. Each month, the Inlander compiles all the First Friday shows in story format, printed in our Arts and Culture section. Show listings are generally provided by the Downtown Spokane Partnership, which organizes First Friday. For our monthly First Friday coverage, the Inlander also adds other shows that we have received separately from galleries and artists who did not also submit to the DSP.
To get your First Friday event listed in this monthly section, please send us your art show information no later than a week before First Friday. We need to know the artists' names, a quick description of the show and their work, the reception time and the show's dates, if it runs through the month or longer. We'll also mention any live music or special events that are happening during the reception. High-resolution images of the artist's work are also appreciated. Please send First Friday info to getlisted@inlander.com.
Doesn't the Inlander have an entire section for music events?
Yes. The music section (Sound Advice) — the section of the paper that's before the events calendar — includes concerts and live music events, as well as live DJs, open mic nights and jam sessions, in clubs and bars around the Inland Northwest happening during each issue's time span (Thu-Wed). Classical music performances like Spokane Symphony concerts, however, run in the regular events calendar.
How do I get my shows listed in Sound Advice?
Sound Advice includes live music performances happening in the Inlander's distribution area. If you are a local musician or venue that hosts live music and don't see your events listed, music listings are due each Monday at 5 pm for events from that Thursday through the following Wednesday to getlisted@inlander.com. If the space for the local live music listings is tight and we aren't able to run all the events in the paper, our Music Editor decides which events to cut. Those events that end up not making it in print, however, will still be listed online at Inlander.com.
If you want to sign up for our weekly music listing email blast that goes out every Wednesday, please email Nathan Weinbender at nathanw@inlander.com and request to get on the list so you never forget to submit your shows!
— Chey Scott, listings editor, updated March 2018
---
SPECIAL GUIDES
SUMMER CAMPS
The Inlander's annual Summer Camps Guide lists camps around the region for kids and families. We strive to be as comprehensive as possible, listing both resident and day camps; sports, arts, faith-based and learning-centric camps, among many others offered around the Inland Northwest. In 2018, this guide will be published in the April 12 issue. Please submit your camp information at inlander.com/submitcamps or email it to getlisted@inlander.com before Friday, March 30, by 5 pm. Please DO NOT submit your camp schedules via the Inlander's regular online event form.
Make sure to include the following: Title/name of the camp (this may also be the camp's actual name); age range or grade range the camp is best suited for; cost; dates of the camp (If offered more than once, please break down the date ranges of each session); a brief description of the camp offerings/programs; location of the camp(s), with an address; website and phone number for camp. For our editorial purposes, please also let us know who is the main contact person for your camp.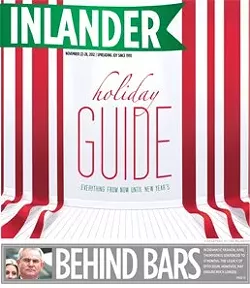 HOLIDAY GUIDE
The Inlander's annual Holiday Guide issue gives readers a comprehensive look at activities going on around the Inland Northwest during the weeks leading up to Christmas and New Year's, including both holiday and non-holiday themed events. Listed in a format similar to the weekly print calendar of events, the annual holiday guide issue's calendar includes events from Thanksgiving to New Year's Day. Events are included in the holiday calendar based on space available in print, and are also listed online. (Note: Religious and nonsecular services are not included in the holiday events calendar.)